MOBILE VIDEO EDITING FOR ANDROID.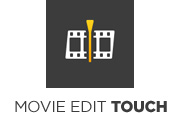 Whether you're at the beach, at a party or simply on the go: Wherever you are, your video studio is always with you. Movie Edit Touch is a free app that enables you to edit your videos right where you made them – on your Android device

.

The free Movie Edit Touch app transforms your Android smartphone or tablet into a mobile film studio!
Whether you're on the beach, on the go with friends and at a family party: Movie Edit Touch lets you edit videos right on the spot. Capture the best moments with your Android device or simply import finished video recordings! Use the video editor to quickly remove unwanted scenes, cut and arrange video clips and add your favorite songs! The video editor can also be used to manually or automatically correct brightness, contrast and colors in less-than-perfect recordings.
EDIT AND SHARE VIDEOS WHEREVER YOU ARE.
Import videos and photos directly from a tablet, cut them, trim them and optimize them, add cinematic effects, text and background music and save your finished movies in brilliant Full HD quality or share them directly with friends.


Record & import Record your own videos with your Android tablet or import them from an SD card and off you go. Cut & edit Remove unwanted scenes, trim clips, add your favorite music and much more. PREMIUM: Effect design The cinematic effects and quick optimization options give your movies that perfect look.

The most important features:
Import video clips and images
Add background music to your movie
Arrange and cut video clips
Shorten video clips (trimming)
Transition effects for scene changes
Fullscreen mode Save/load projects
Edit project in MAGIX Movie
Edit Pro Video output in standard resolution


Additional Premium features: Want to get even more out of your videos? Movie Edit Touch for Android can be expanded with additional premium features at any time. They can be purchased directly in the app with the touch of a finger. Quick image optimization Add cinematic effects Create titles and text Many additional transition effects Video export in HD quality (720p/1080p)


HIGHLIGHTS:
Transition effects for scenes
Movie Edit Touch for Android offers you professional transitions for dynamic scene changes in your video.
PREMIUM: Video export in Full HD Edit and save your videos in fantastic HD resolution – ideal for large screens such as a TV. P
REMIUM: Cinematic effects for your videos Give your videos a special look with amazing effects like Lomo, Tilt-Shift, HDR, Pop Art and many more.
PREMIUM: Fast image optimization To make sure your videos always look their best you can use the Premium version of Movie Edit Touch to quickly and easily adjust the brightness, contrast and saturation.
PREMIUM: Create video titles and text The title editor in the Premium version makes it totally easy! Simply add your text, choose the font, set the size, display time and position, choose a color and you're done.
Perfect your video projects at home on your PC If you want to edit your videos in more detail, you can transfer your projects directly to the high-performance desktop versions of MAGIX Movie Edit Pro.